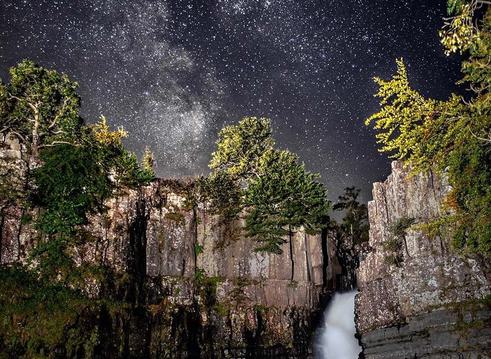 Experiences
Stargazing Experience at the Breathtaking High Force Waterfall
Active Pursuits
Christmas Gifts
Price From: £47

Discover the magic of the night skies with a stargazing experience at High Force waterfall! Duration 2 hours.
Unfortunately, because of limited space at the location, we do not permit use of camera tripods, or allow guests to bring dogs.
---
Business providing experience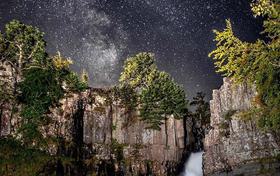 Star Safaris
Welcome to Star Safaris, run by Gary a qualified teacher (Cert.Ed. & PGCE) with over 30 years' experience in science education and a Fellow of the Royal Astronomical Society.

Star Safaris run events in interesting locations, many of which aren't usually accessible in the dark. People enjoy this aspect immensely. But every site we use is surveyed thoroughly, to make sure it's among the darkest in the country.

What's a Star Safari?
Star Safaris take people out to beautiful, dark locations, and teach them about the night sky - as our ancestors would have experienced it. At some locations, they start with an indoor briefing and a stargazing talk. Sometimes, this is delivered before the tour, over Zoom, especially when going somewhere without indoor facilities.

The emphasis is on naked-eye observation, but at some events smartphones and/or binoculars may be used. Sometimes Star Safaris run special events where you can listen to music with a commentary, through a wireless headset.

So, why a 'Star Safari'? If you've ever been on a regular (animal) safari, you'll know the tour is all about the environment and the thrill of the search for wildlife. You may, or may not, see what you went for, but you'll still have a good time.

In England, cloudy skies are a fact of life, but we do get some pristine clear skies too. You just never know what you're going to get. So, Star Safaris make all the events enjoyable, regardless of the conditions. But, more than that, if you're not lucky enough to get a clear night, Star Safaris have a guarantee.

Star Safaris do everything they can to create a memorable experience for you and your loved ones. You'll leave knowing a great deal more about stargazing than the majority of people.
---
Find Accommodation