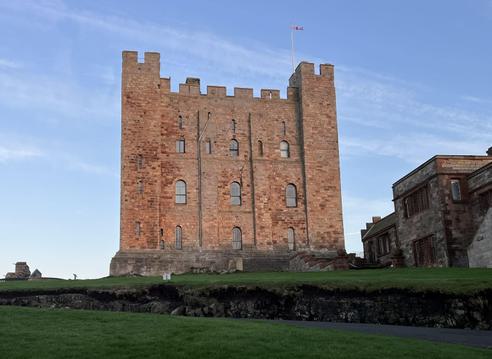 Experiences
Bamburgh and Lindisfarne Private Tour
Active Pursuits
Stunning Escapes
Attractions
Price From: £348.10

Duration 8 Hours
Included
This tour is a whole day tour.
Entry to Bamburgh Castle and Lindisfarne Priory is included.
We offer the option of Collection (starting at 9 am)
Lunch is included for this tour.
Since pre-history Bamburgh and Lindisfarne have had human settlements. As a fortress of the Kingdom of Northumbria Bamburgh was the centre of the largest Kingdom in England during the 7th and 8th centuries. In the middle ages, the Castle developed as an important fortress against Scottish attack - eventually developing into the impressive fortification you see today.
Lindisfarne is famous for both the Lindisfarne Gospels and being one of the first locations in the United Kingdom to be attacked by the Vikings. It is called the cradle of English Christianity due to the importance of the monastery in the dark ages.
Due to the tides, the tour may go to Lindisfarne at different times to enable safe crossing and return to the mainland. The Village of Bamburgh will also be included in the tour with St. Aidens Church and its Ossuary both being sights to visit.
What to bring
All-weather clothing will be required and walking shoes.
There will be a lunch break for food and drinks for you on the tour but please bring any other food you may require. We suggest a camera to capture images on the tour.
---
Business providing experience
Iles Tours
Step into the story of the North East and go deeper into the history and heritage with Iles Tours who know that the best trips are the ones that live on in the memories that stay with you. That's why Iles Tours doesn't do ordinary walking tours in Newcastle and the North East. Instead, the expert tour guide take you on a journey into the fascinating stories that have shaped England's unique history, people and culture for over 2,000 years and are still unfolding today. You'll have fun, learn new things and come away with a great story to tell after you have experienced a guided tour by Iles Tours.
Find your next adventure with guided walking tours across Newcastle, Durham, Northumberland and Tyneside, Iles Tours will show you North East England as you've never seen it before.
From one-hour walks to full-day trips, each one of Iles Tours' guided walking tours offers in Newcastle and the North East are an experience to remember.
---
Find Accommodation